Being your own boss sounds great. Tons of people want to run their own business, earn a living on their own terms, and enjoy the freedom and flexibility of being a small business owner.
But starting a business means spending a ton of cash, right? Doing something like buying a food truck or starting a restaurant means you'll invest a lot of money. What if it goes wrong?
Well, there are lots of home-based businesses opportunities that you can start without spending a ton of money.
In this blog from Create Australia we'll go over a few easy business ideas that have a low startup cost! You can build a profitable business and start working for yourself full-time with one of these ideas.
1. Start A Dog Walking Service
If you love animals, this is a great option, particularly if you live in an urban area with lots of busy professionals who may not have time to walk their dogs on their own. This may seem like a strange idea, but dog walkers can make a lot of money – often up to $25/hour or more, depending on the job and the length of the walk.
This type of business is safe to start, too, since dog walking is in constant demand, and you don't have to pay for many startup costs – a couple of leashes, some plastic bag to pick up dog "business," and maybe some doggie treats are all you'll need to get started.
You can advertise online, on social media, and in newspapers to get started – but if you want to start making money fast, we recommend using a dog walking app like Mad Paws or Pawshake.
These apps are sort of like "Uber for dog walking!" You'll pay a percentage of what you earn to the platform, but you can quickly find, accept, and manage jobs online – which is great when you're first starting out.
2. Become A Virtual Assistant
Being a virtual assistant is, well, exactly what it sounds like! Just like an in-person office assistant, you'll be responsible for helping one person – or a department or division of people – with routine, day-to-day tasks that they don't want to handle on their own. These tasks can include:
Writing and sending emails
Making phone calls
Taking notes during meetings
Transcribing documents
Organizing files
Coordinating schedules and calendars
Setting up meetings
Making travel arrangements
The specifics depend on the position, but this kind of administrative work is typically quite straightforward.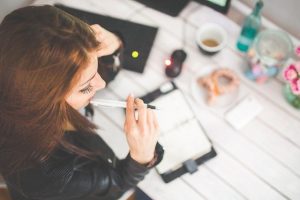 Another great benefit of this type of job is that you probably don't need to buy anything to get started – if you have a laptop, a phone, and a reliable internet connection, you've got everything you need.
3. Learn The Basics Of Graphic Design
Graphic design is a lucrative field, particularly in today's economy where websites and social media are so important.
This business idea will not cost you a lot of money, but it will take some time to learn graphic design, and you'll need to be tech-savvy – and understand programs like Adobe Photoshop, as well as the basics of web design.
A great way to get started is by finding online courses about graphic design basics, and reading some books on the subject. Then, you can move on and start following tutorials on how to create eye-catching graphics. Once you've gotten a handle on the basics, you can sign up for a website like Upwork or Fiverr and start getting your first few clients!
4. Try Your Hand At Lawn Care
Not looking to spend your time indoors? If you love working outside, you may want to start a lawn care business! Thanks to the warm weather throughout most of Australia, you can run your business year-round.
To get started, all you really need is a few basic tools like a lawnmower, an edger, a brush cutter, and some hand tools to trim hedges and other things – and some basic knowledge of lawn and garden care.
Just start by offering basic services like lawn mowing. As your business grows, you can add more services, hire more staff, and even begin investing in trucks and vans to serve multiple customers at once.
Since the initial cost of starting this business is low and the demand for lawn care is consistent, this is a very safe business to start if you've got an entrepreneurial bug, and don't want to work indoors.
5. Become A Refund Consultant
Refund consultants help people in Australia and throughout other countries like the US and UK refund lost money that they are owed – and take a percentage of the money as their "finders fee."
This business doesn't require a lot of technical skills, and it's easy to start a business in your spare time – and then grow it into your full-time gig!
As you can see from these easy business ideas, there are a lot of ways you can sell products and services and be your own boss – without spending thousands of dollars on startup fees, products, equipment, renting an office, and so on!
Any of these small business ideas can be successful. But if you want to be your own boss and build a successful business – without having to create a business plan on your own – working with Create Australia is a great choice!
Once you get the training and education you need to become a refund consultant, you can start building your business quickly, earn a profit, and finally become your own boss. To learn more and get started with this consulting opportunity, start your business with Create Australia now, or call us at 1800617111 if you have other questions.